Europe buys Datong Electric's locomotives
Datong Electric Locomotive Vehicle Co Ltd has signed a deal to export its high power trains to Europe.
The company, a subsidiary of China CNR Corporation Limited (CNR), will sell its locomotives, branded as "Hexie" trains to Belarus, under a deal signed during Chinese Vice President Xi Jinping's visit to Belarus on March 25.
The contract value is 700 million yuan. This is a significant first step in accessing the high-end European market.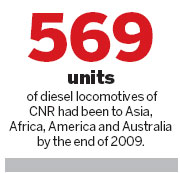 The trains have advanced AC drive technology, total power of 9,600 kw and a speed of 120 km per hour.
The locomotives also have in-built capability to self-test and to recognize and diagnose faults, ensuring that their safety and performance is of the highest standard.
By the end of 2009, China CNR had exported 569 units of diesel locomotives to Asia, Africa, America and Australia, accounting for 63 percent share of exports among domestic enterprises. The deal with Belarus helps China CNR expand even further.
The trains are independently designed and manufactured by Datong Electric to comply with the technical requirements of the railway-operating environment in Belarus.
Located in the plateau of the Eastern Europe, Belarus is a transport junction. In recent years, with growing demand for rail freight, Belarus needs more advanced high-power electric locomotives.
China CNR, a leading provider of locomotives and rolling stocks, has set up four R&D centers to develop its products.
The electric locomotives developed include the HXD2, HXD2C, HXD3, HXD3B, and the diesel locomotive HXN3. The technology used is world-class and means that the company plays a leading role for domestic rail freight and also makes them competitive in the international freight locomotive market.
(China Daily, April 06, 2010)